GeMainsam - Together
Terz brings people from Frankfurt together through singing, particularly in times of Corona!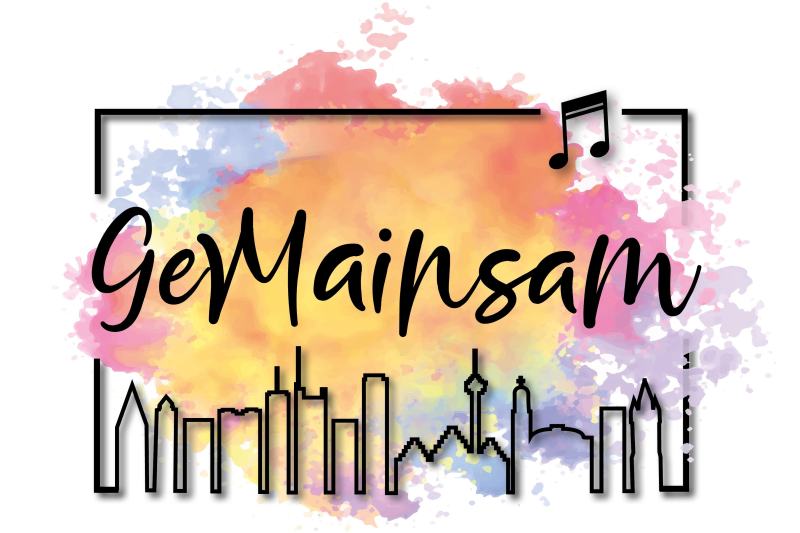 Sing together – GeMainsam – the name says it all!
GeMainsam is a play on words, combining the German word for "together" (gemeinsam) and the name of the river Main, running through our beloved city. With our project we want to bring people from Frankfurt and their cultures closer together through singing. Frankfurt thrives on its diversity and we want to show and celebrate it by inviting you to sing a song with us in different languages and create a fantastic video. Particularly in times of Corona we want to strengthen the community of our city.
What do we sing?
With "Wie Sand" [Eng.: "like sand"] by Leontina we found a great song to give us hope and joy during these times that seem so gloomy to most of us. Our musical director arranged the song for the project so that we can sing it not only in many languages, but also in several voices .
And don't be afraid! Even if you've never sung before, you can of course sing with us. We'll make it easy for you, we'll rehearse with you! Of course, everything will happen Corona-compliantly in the virtual world and with the opportunity to get to know the singers beforehand. How andwhen? We have compiled all the information for you in a compact form – and in many languages. Here you will find all the information about how to record your voice and how the video will be created.
Online-Rehearsals
There are three rehearsals. Join us live (for this you may print out the music sheets that can be found in the members area)
10.01.2021 - 3.30 pm get-together, 4-5.30 pm rehearsal
16.01.2021 - 3.30 pm get-together, 4-5.30 pm rehearsal
23.01.2021 - 3.30 pm get-together, 4-5.30 pm rehearsal
After every rehearsal you will find a video of it in the members area since our choir leader Ana will be recorded. During the rehearsal everyone will hear Ana, but your own chanting will be heard only by you. If you switch on your camera, the other participants will be able to see you. We will not record your voice or image during the rehearsal.
Q&A sessions
Feel free to email us with any questions or join one of our Q&A sessions:
11.01.2021 - 8-8.30 pm
18.01.2021 - 8-8.30 pm
25.01.2021 - 8-8.30 pm
01.02.2021 - 8-8.30 pm
08.02.2021 - 8-8.30 pm
Q&A-Session
Meeting-ID: 898 8837 9765
Kenncode: 332695
Sponsored by